We may have a lot to offer in regards to accessories and parts, but what we do mostly is our services :
Primarily, what we do is  Computer and laptop repairs. Upgrades and maintenance.
Computer repairs, is something we have a passion for, and we all know if you like something , you get good at it.
We can remove viruses, make your computer go faster, fix those annoying windows errors, clean up all those excess programs and make your computer run smoother.
When your computer wont boot, we can find out why and fix it. If you have trouble installing new software or hardware we can sort it out for you. We can back up your data or show you how to back it up yourself. We can help with email problems and printing problems.
Lost your Windows Login password and can't log into windows? We can reset your password for you.
We also do most laptop repairs including replacement screens, replacement keyboards, overheating cpu fans and a whole lot more. In fact other than the motherboard, if a laptop is broken there's not much that can't be fixed. Of course we'll quote on the job first. After all it has to be economical to fix. Lost your laptop power pack ? We have spares.
Laptop screens come in a wide variety of shapes, sizes and types. From 10.1 inch to 17.2 and above, from LCD to LED, From matt finish to glossy, the list goes on.
In most cases it's worth replacing a laptop's screen so don't throw away a laptop just because the screen is broken. We always quote first.
Sometimes when a laptop gets a broken screen the hinges can be damaged too so we always check those over while we are on the job.
To get an accurate quote on a laptop screen replacement we will need to take out the old screen first ( no sorry we can't quote over the phone ) there are too many possabilities to consider. Just because you have a 15.4 led doesn't mean that another 15.4 led will cut it. We also need to take your graphics card into consideration. Some graphics cards are better than others and of course the screens need to match.
Sometimes the connector can be on the left and sometimes it's on the right.
That's why we always quote first.
Rest assured though, we have done hundreds and hundreds of these.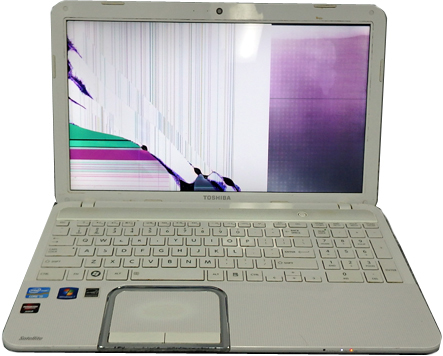 On occasion we will have laptops come in that have broken usb ports. Unfortunately a lot of the time they have been that way for some time. Although they are very easily fixable ( most of the time ) they need to be attended to immediately if they break and NOT used in the mean time. Those pins have voltage running through them, left broken they run the risk of shorting out and causing way more damage.
If you have a usb port like this….. Bring it in for repair while the job is still a simple one.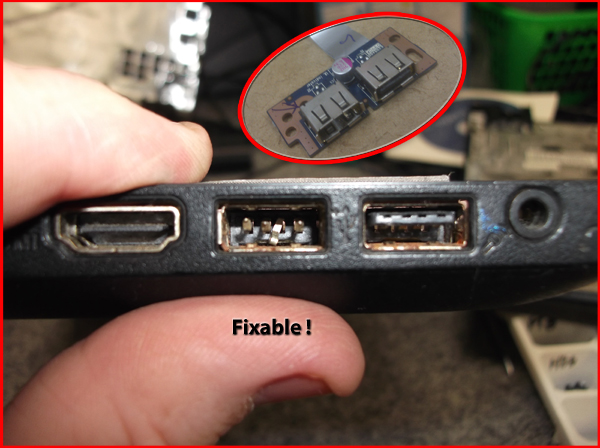 If you have a laptop that has seen better days and the lid seems to wobble around when you open or close it, you may have busted hinges. Most hinges are held in place with two or three screws. It's being held tight that gives the mounts their strength. Once it gets loose it will soon break and that will only lead to bigger problems.
If you have a laptop with loose hinges, bring it in so we can quote on the repair. If it has already broken the mounts, in many cases the laptop can still be repaired, there are options available that may require replacing the bottom case. We've done that on many occasions and it still works out cheaper that getting a new laptop.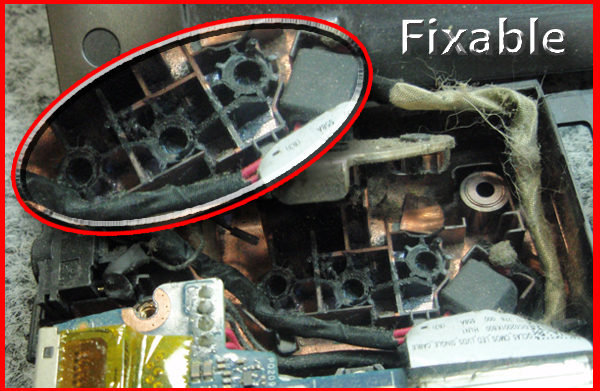 By the way, we do way more than just laptops. We do computer repairs, all in ones, laptops, hard drive caddies, Apple Macs, some tablets and a whole lot more.
Just give us a call and let's have a chat about your "computer problem" and see if we have a solution for you.
We've been around since 1997. After this long on the job, we can help with just about anything.
Computer repairs is what we do !
It all starts with you…. Just call us… 07 3804 7400