Computer repairs
Quick Solve Computers was established in 1997. That's a long time on the job.
We specialise in Computer & laptop repairs, upgrades and maintenance.
Whether it's a computer or a laptop,  we'll quote on the job first. After all it has to be economical to fix.
For more information on each topic [ Repairs, Upgrades or Maintenance ] see below.
Did you know… We also do Webpage design and hosting.. See the menu at the top of the page for more information.
Repairs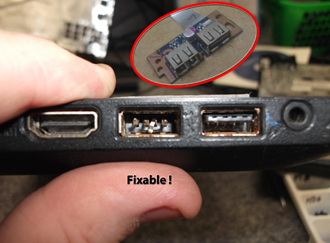 When your computer wont boot, we can find out why and fix it. If you have trouble installing new software or hardware we can sort it out for you. We can back up your data or show you how to back it up yourself. We can help with email problems and printing problems.
Lost your Windows Login password and can't log into windows? We can reset your password for you.
We also do most laptop repairs including replacement screens, replacement keyboards, overheating cpu fans and a whole lot more. In fact other than the motherboard, if a laptop is broken there's not much that can't be fixed. Of course we'll quote on the job first. After all it has to be economical to fix. Lost your laptop power pack ? We have spares.
Upgrades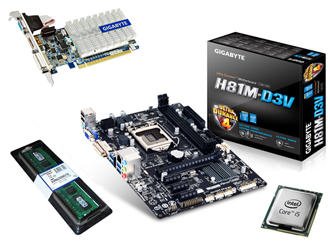 When it comes to getting a newer, faster and bigger computer there are way more options out there than just getting a new machine.
A bigger cpu, a new motherboard, perhaps some more ram or a bigger hard drive to handle all those home movies or maybe even a bigger graphics card or a move to adding a graphics card instead of just using the onboard might be what you are looking for.
Solid state hard drives are always a great addition to your existing computer. The speed of a solid state hard drive is nothing short of amazing.
We do lot's of upgrades here so do yourself a favour and pop in to have a chat and let's come up with some options for you.
Maintenance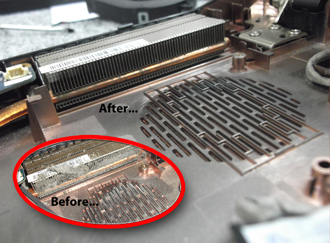 General maintenance is undoubtedly the best way to prolong the life of your computer. Probably the number one cause of hardware problems is overheating. This is normally due to the cooling fans being totally blocked. Something that could be avoided with a little bit of regular attention. Often though it's a case of out of sight out of mind.
What follows is a series of photos from actual jobs we have done, either repairing or preventing damage caused from overheating.
We suggest getting your pc or laptop serviced at least once a year at first, then after each subsequent service we can recommend how often to bring it back based on how bad it was on the last job. For some people once a year is not enough but for others it's way too much.